THE WORLD'S BEST BARTENDER TO CHAMPION ROOSTER ROJO TEQUILA
January 24, 2023
Amber Beverage Group (ABG), owner of the Rooster Rojo Tequila brand, has appointed World Bartender of the Year, Andrew Watson, as a Brand Champion. Andy Watson (33), originally from Sydney, Australia but now working and living in Sweden, won the prestigious IBA World Cocktail Championship1 title in November 2022.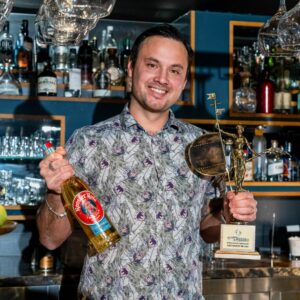 Andrew Watson faced competition from top professionals in sixty-four countries. He becomes IBA Ambassador in 2023 and will work with Rooster Rojo Tequila, which was the hero spirit in the cocktail that helped Andrew Watson reach the all-important finals – the aptly named 'Rooster's Pride' which now is a fixture on the menu of his bar in Sweden and perhaps the most important cocktail creation of his life.

Recipe for Rooster's Pride:
35 ml Rooster Rojo Reposado Tequila
45 ml Clarified Coconut Tincture (homemade)*
80 ml Cinzano Prosecco
Serve in a flute. *The tincture is made with coconut cream, coconut milk, citric acid, malic acid, lime peel, lemon juice, Palo santo (wood), sandalwood, smoked agave, and salt.

The careful choice of Rooster Rojo Tequila was critical, as for the semi-finals round the competitors could select any ingredients. Andrew Watson said: "The liquid has character. It takes centre stage as the backbone to a drink, and I knew that the liquid was authentic. I created the drink based upon the spirit. I sampled the range of Rooster Rojo Tequilas and decided that the Reposado would work perfectly for my vision of the cocktail. Rooster Rojo Reposado fitted the bill perfectly. I owe so much to this drink."

Like many people in the drinks industry, he believes tequila is on an upwards trend. He gave a word of caution and a note of optimism for authentic brands. Andrew Watson said: "There are celebrities starting their own brands and spreading the word to the masses. However, with this rise in popularity, the market has been flooded with sub-standard liquids. This has presented an opportunity to quality brands to truly elevate themselves. A large part of why tequila is more popular these days, I believe, is the reformation of how tequila is consumed. Gone are the days of it being the shooting spirit; today tequila is being viewed as a premium liquid that deserves attention and understanding – about time too."

Mantas Zlatkus, Global Brand Director of Rooster Rojo Tequila, commented: "We congratulate Andrew Watson on winning the prestigious World Bartender of the Year award. We are thrilled to be working with this creative, imaginative, and highly professional bartender and to name him as our Brand Champion. Rooster Rojo, which is available in five expressions, is an authentic Mexican, hand-crafted tequila. We launched a campaign called SIP DON'T SLAM and Andrew's approach to selecting fine tequilas and treating these liquids with respect accords perfectly with our own ethos."

Andrew Watson is no stranger to awards. He has already won six other national bartending contests2 in Australia and in Sweden. This was his first international win.

Andrew Watson said: "Winning this award has been the most humbling and rewarding accomplishment in my career to date. From the start of the journey to today, Rooster Rojo has been present, even post championship. I am in the process of deepening my relationship with the brand and this goes to show what is possible when you work with like-minded individuals."

He trained through the Merivale system in Sydney Australia, a trade institute. As well as working in his homeland of Australia, Andrew Watson also spent time in Lima, Peru, before moving to Sweden six years ago. He has worked in the bar-trade since the age of 17.

He says: "I started cleaning glasses to pay for university, and quickly fell in love with the creative side of bartending and the interpersonal relationships that I could form with co-workers and guests alike. I've tried leaving the trade twice, to pursue a teaching career, though I could never commit fully to life without bartending. I love this industry and all that it has provided for me and my family."

He expressed pride in winning Bartender of the Year award, paying tribute to his colleagues and his wife. "First and foremost, a positive network around you matters. You really need to treat the opportunity with appreciation and professionalism – this means studying, training, practicing and not conforming to old stereotypes of bartender lifestyle. In my professional life, I am drawn to certain philosophies: the approach to drink creation and delivery, hospitality practices and how to carry oneself as a professional," said Watson.