KAH TEQUILA IS NO.1 ULTRA-PREMIUM TEQUILA IN UK MULTIPLE GROCERS
KAH Tequila
, the authentic, 100% agave tequila brand which is owned by Amber Beverage Group, is now the UK's No.1 Ultra-Premium Tequila by value and volume, outperforming Patron Silver, new data shows.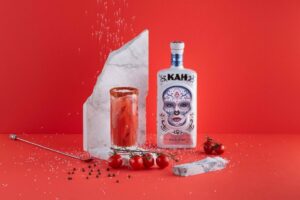 NielsenIQ data for the past six months* indicates that KAH Tequila is the top performing Tequila in its price range within the grocery channel during the period ending 11 March. Copyright. © 2023, Nielsen Consumer LLC.

The performance is chiefly as a result of buoyant sales through Tesco stores nationwide and the online platform Tesco.com since the brand was listed there in 2022. The visionary move by Tesco reflected the growing consumer trend towards tequilas as the next high-growth spirits category and KAH was the first super- or ultra-premium tequila to be listed there.

The brand is distributed in the UK by Amber Beverage UK, the subsidiary of Amber Beverage Group, the fast-growing global beverage company.

Tina Connolly, Senior Brand Manager for Amber Beverage UK, said: "KAH is an eye-catching as well as delicious, authentic tequila brand. Tesco had the vision to list this, their first super- or ultra-premium tequila brand in August 2022, and this has undoubtedly helped to bring the brand closer to consumers who find this category an exciting one to explore.

"Whilst of course tequila is not new, the move towards hand-crafted, authentic, sipping tequilas has attracted what is in effect a new wave of tequila lovers, whether they are new to the drink or whether they are revising outdated views based on drinking poor mixtos in their youth."

The brand owner is predicting a strong brand growth trajectory during the rest of 2023, anticipating that volume will be doubled this year. A new expression is planned for introduction into the UK later in the year.

The Blanco expression is the only one available in Tesco currently where it is sold in a 'brick' shaped bottle, a UK exclusive for the initial period of sale. The bold white ceramic bottle is adorned with Day of the Dead skull designs and has strong shelf-presence.

Another format – an eye-catching skull-shaped bottle format – is available through other retailers and also sold widely in the on-trade where it is listed by high-end venues. KAH Blanco, KAH Reposado and KAH Anejo expressions are available along with skull shaped miniatures. Retail stockists include top lifestyle stores such as Fenwick and Selfridges.