Premium expressions are exceptional 100% Blue Weber Agave sipping Tequilas, meticulously produced and bottled in the historic town of Tequila, Mexico. An 80-proof elegant sipper, comfortably combined in an array of cocktails, these ultra-smooth classics are packaged in a distinctive slender bottle with a stylized Agave plant label design, richly displayed to attract a sophisticated audience and proudly served as the premium Tequila of choice.
This brand we proudly produce for our partners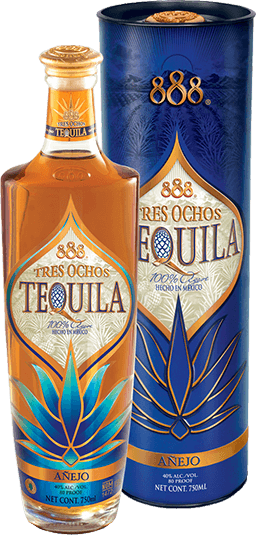 Tres Ochos Anejo
 Handcrafted and extra aged for 3 years in a combination of small charred American white oak and French oak barrels, producing an elegant reddish-amber hue infused with notes of sweet baked Agave, tones of vanilla, cherry, chocolate and honey rounded with a blend of traditional spices complimented by a cognac whisper of barrel aging characteristic of the finest ultrapremium sipping Tequila.
Tasting notes
SKU: 0,75L
ABV: 40%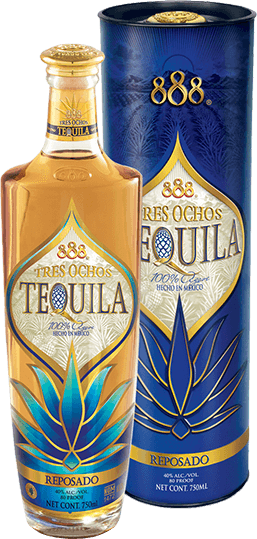 Tres Ochos Reposado
The pride of Fabrica de Tequilas Finos is gently rested and extra aged in excess of ll months in large American white oak casks, producing a golden amber color balanced with tones of sweet roasted Agave, a refined taste of citrus, vanilla, coco and honey, complimented by an array of traditional spices yielding a buttery smooth viscosity finished with a hint of wood inherent to exceptionally fine Tequilas.
Tasting notes
SKU: 0,75L
ABV: 40%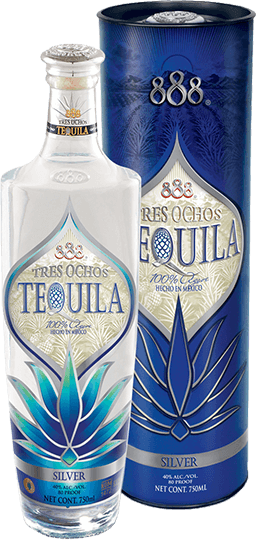 Tres Ochos Silver
Reverently produced from the heart of the Agave pina to capture the spirit of Mexico, 888 Tres Ochos Silver is double distilled, crystal dear, lightly peppered with the nose and palate of sweet roasted Agave infused with hints of vanilla, honey, fruit undertones and a delicate sachet of spices, culminating in a soft, smooth, elegant finish.
Tasting notes
SKU: 0,75L
ABV: 40%